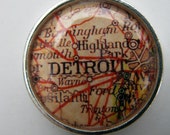 Motor City and proud of it! Celebrate your love of all things Detroit with this map pendant. This pendant features an image of Detroit from a collection of maps that I have lovingly discovered while hanging out at my favorite dusty book shop..
The silver toned pendant is 1" round and the map image is enhanced with a round bubble of resin. The pendant hangs on an 18" delicate ball chain. You...
Click Here to Visit My Etsy Shop!